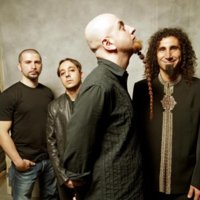 System Of A Down
System of a Down wurde 1995 in Kalifornien gegründet. Zuvor gründeten Serj Tankan und Daron Malakian ihre erste Band names "Soil", doch gründeten sie zwei Jahre später auf der Privatschule auf die sie gingen "System of a Down".
Im gleichen Jahr bekamen sie einen Plattenvertrag und veröffentlichten ihr erstes Album. Ihr Musikstil mit vielen verschiedenen Variationen kam auch zweiten Album sehr gut an, welches drei Jahre auf sich warten lies.
Wieder verging einige Zeit, da sich die Musiker eigenen Projekten widmeten.
Ihr viertes Album brachte ihnen großen kommerziellen Erfolg. Danach legten sie allerdings eine Bandpause ein, weil sich alle ihrem Privatleben und ihren Soloprojekten zuwenden wollten.